DAY 6: TEAM BUNDOCK/ASHBY NEW F18 WORLD CHAMPIONS 2005


Team Darren Bundock and Glenn Asbhy best F18 Sailors of the World.
Hoek van Holland, 15 july 2005

Last Final day changes the overall standing completely.

Defending champions Darren Bundock and Glenn Ashby sailed impressively
during this worldchampionship in the Netherlands. After the lost
thursday where there was no wind, the final day was decisive and full
of surprises. Team Kenbeek/Brouwer were leading this morning but lost
the lead because of a BFDiskwalification in the second race today.
Team Booth/Dercksen sailed very well today and climbed from 10 to the
second place.
The French Nissan Team Mourniac/Citeau sailed very consistent the whole
series but lost the third place to Christian and Helge Sach on a
Capricorn

This morning saw perfect conditions with 15-18 knots of wind with blue
skies for race1. During the day, the wind went down and in the 3rd race
of the day, only achieved 5-7 knots. Because of the close situation on
points in the first 10 of the overall standings, a lot of risk was taken
by various crews which resulted in a lot of general recalls with black
flags.

The winners receive at 20.00 hours the winners trophy, presented by
sportsauthority Erica Terpstra.
Top 5 Goldfleet.

After 6 days and 12 races the defending F18 World Champions dit it again and took the gold!
The first 5 of the overall list are:
1. Darren Bundock / Glenn Ashby (AUS 69)
2. Mitch Booth / Herbert Dercksen (NED 111)
3. Helge Sach / Christian Sach (GER 123)
4. Jean-Christoph Mourniac / Franck Citeau (FRA 1907)
5. Remco Kenbeek / Paul Brouwer (NED 1)

Winner of the Silverfleet is the English team Simon Kearn / Ben Burns (GBR 1629)

Picture: Darren Bundock and Glenn Ashby on their cat!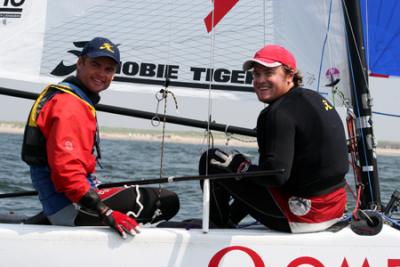 » DAY 6, 16.00 HRS: FINAL RACE HAS BEEN SAILED.
» SHUFFELING THE CARDS, DRAMATIC CHANGES IN THE TOP 3!
» RACE TWO FINISHED
» SECOND RACE STARTED
» DAY 6 PERFECT SAILING WEATHER
» GOLDFLEET BACK ON THE BEACH AGAIN!
» DAY 5 16.00 HRS: AFTER HOURS WAITING FINALY WIND
» DAY 5 AT 13.00 HRS: 2 MINUTES SILENCE FOR THE VICTIMS IN LONDON.
» DAY 5: AGAIN POSTPONEMENT OF THE RACES DUE TO LESS WIND IN THE MORNING.
» END OF THE DAY 4
» DAY 4 IN THE MORNING
» FIRST RESULTS.
» DONíT KISS THE COMMITTEE BOAT!
» BACK ON THE BEACH END OF DAY 3
» IN THE MORNING OF DAY 3
» NO GUN ?
» AT THE END OF DAY 2
» DAY 2 AT NOON
» END OF DAY 1
» DAY 1
» IMAGINE: SURFING ON THE BEACH?